It has been quite a while since my last post. I finally finished gathering my numbers for my CPA today...don't worry we got an extension. Since I have all that squared away I want to be even more caught up! I decided, why not post all the projects that I haven't yet posted? So here are all of the FULL designs I've completed but never posted. I have also been working with repeat customers on lots of other little things here and there but I am not posting all of those at this time.

I got inspiration from these ladies, stalked them all a bit and then worked with each to get EXACTLY the looks they wanted!

Libby's Little Addiction
I spent a lot of time organizing and making everything clean. Her link lists are pages which really helped give her sidebar a nice fresh look.



INKclinations
Melissa wanted a flower change a few other things on her blog originally designed by Veronica. Hi Veronica! *waving*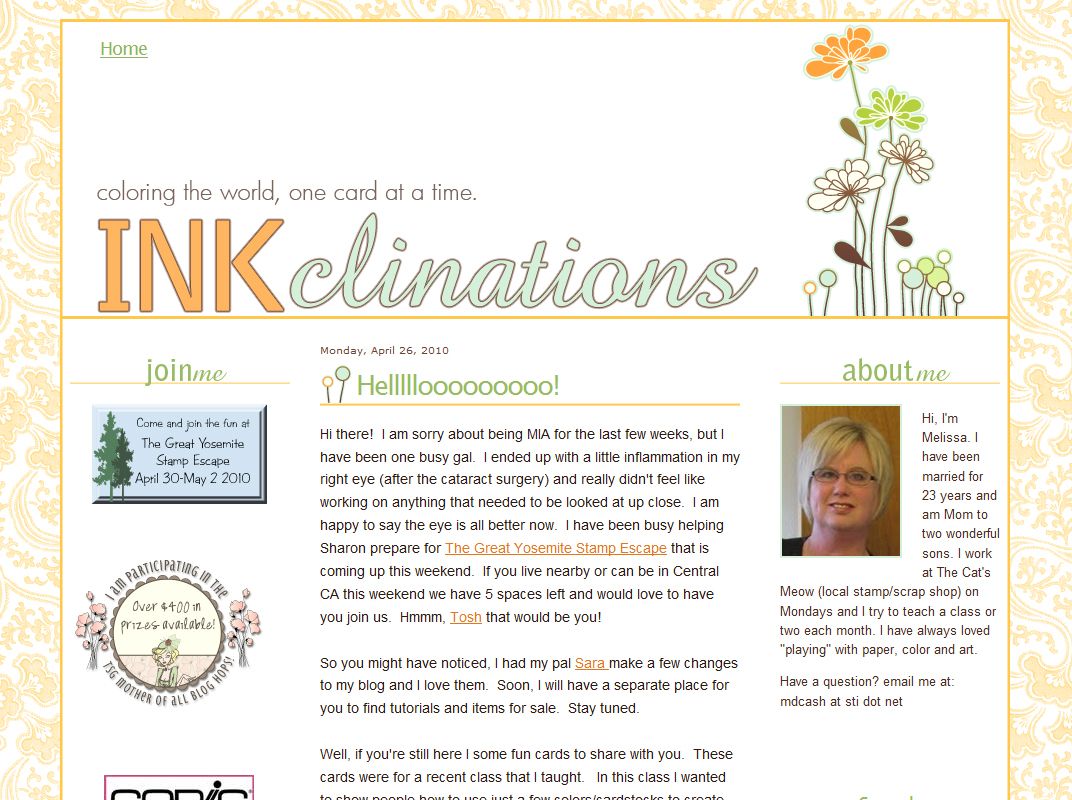 ...just a little something...
Joanne just wanted simpler versions of her previous banners designed by myself. I work with Joanne often on little things here and there. Graphics for giveaways, package sets for MFT, business cards and even an Etsy banner! She's such a wonderful woman and I am always happy to hear from her!!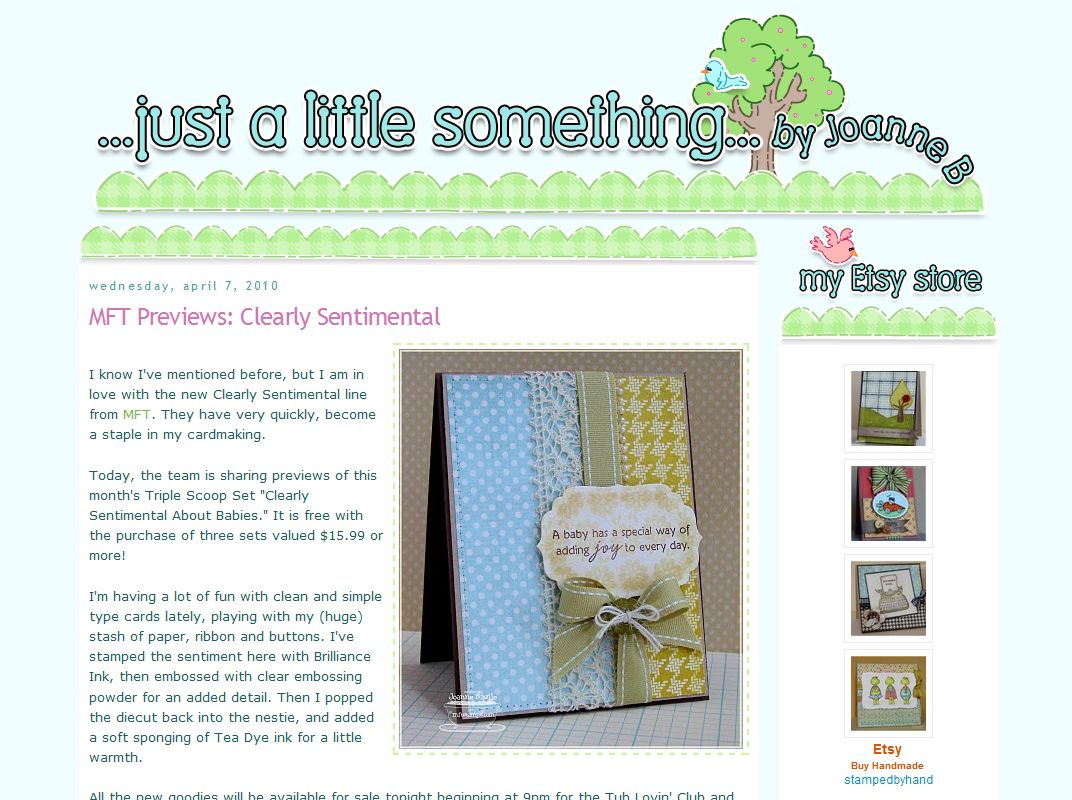 Lillian's Place
Another blog design for Lily, I am merely her tool. She likes to ask me, "Mommy, when can I get in your queue?" My little drama queen...I love you Lily! ;) Lily has been participating in a children's challenge...take a look if you have a child who LOVES crafting and card-making!!!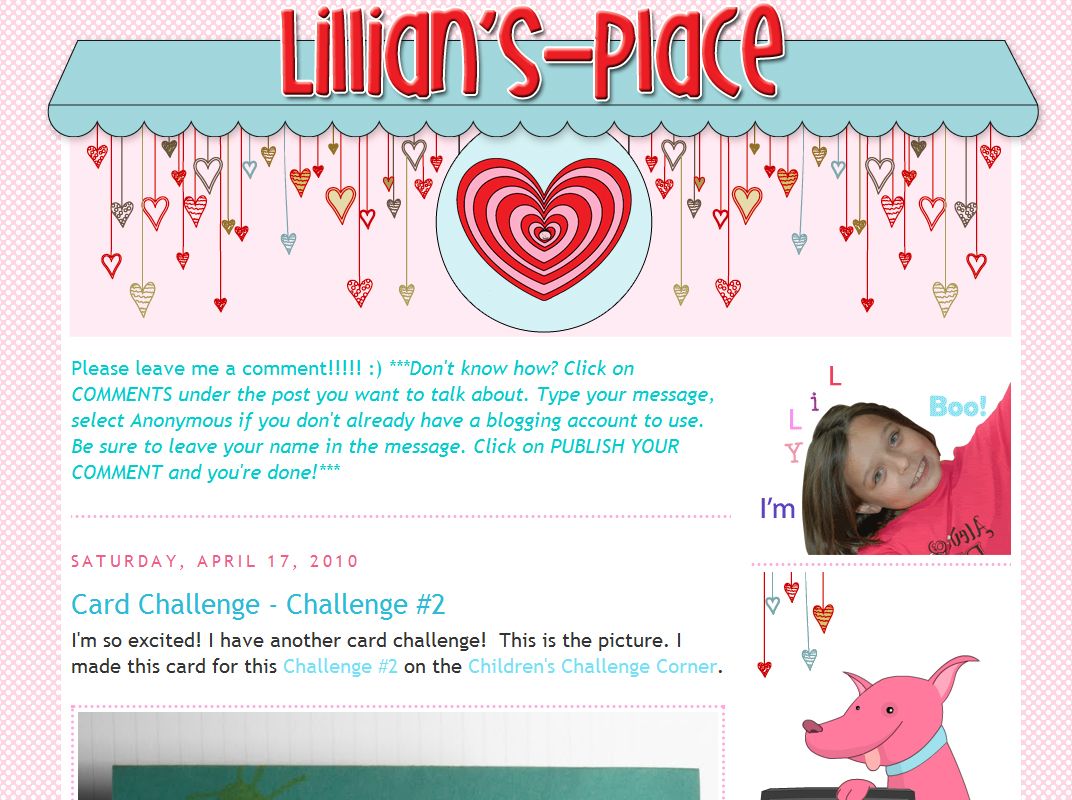 My Time Made Easy™ LLC
I worked with Lauren previously on her SCS hosted blog. Knowing that I had NEVER designed a store before, Lauren asked me to help her with this venture! I suppose she knows that I'm a sink or swim kind of gal and I have yet to drown...how could I refuse??? I just love Lauren and jumped at the chance to learn A TON more about the big wide world of web design. I am still working on her company's blog, forum and gallery. I still work with Lauren during each release. Heck I'm even officially part of her very talented Design Team...SWEET! However I don't have the time to do the paper thing just yet...but maybe someday soon!


Check out MTME to learn more about Lauren's very pretty templates, stamps and more!!!

...or just go straight to the store!



InkyDiva Fitness - not public at this time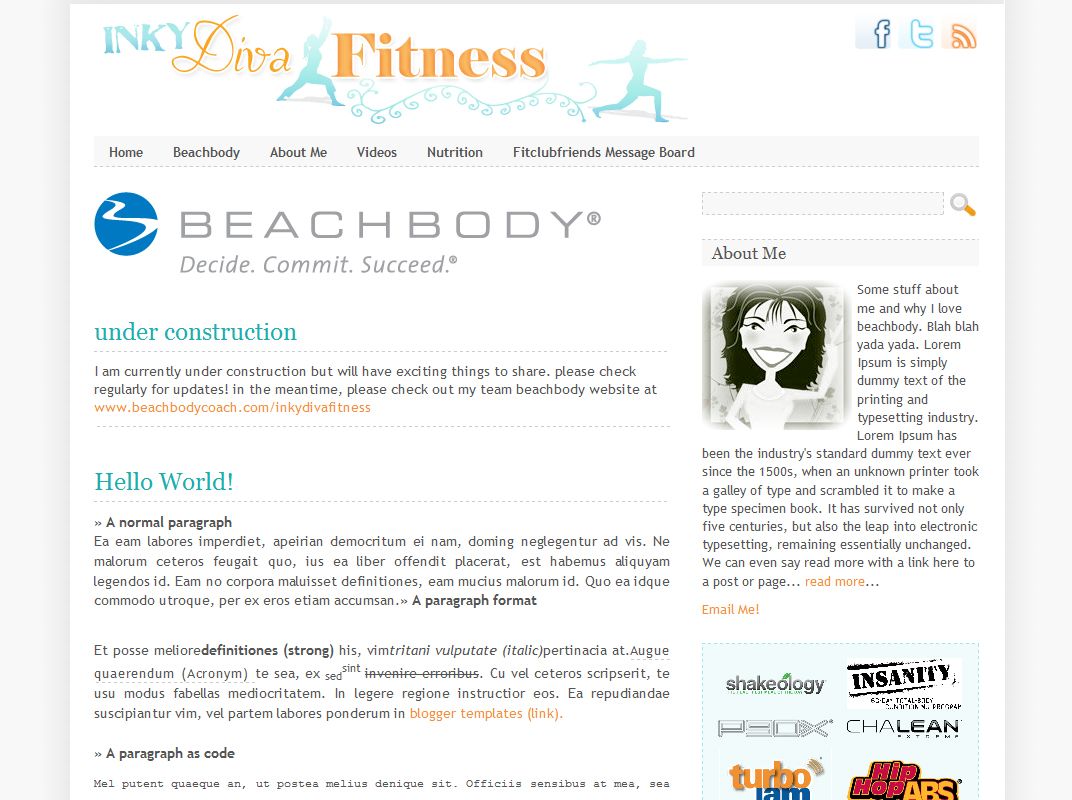 Belle Papier
Julia has a beautiful and elegant sense of style. I was so excited when she asked me to work with her on a custom design for her SCS hosted blog. Her style really helped me grow as an artist. Her design was even featured on Designs So Pretty...THANKS A MILLION KRISTIN!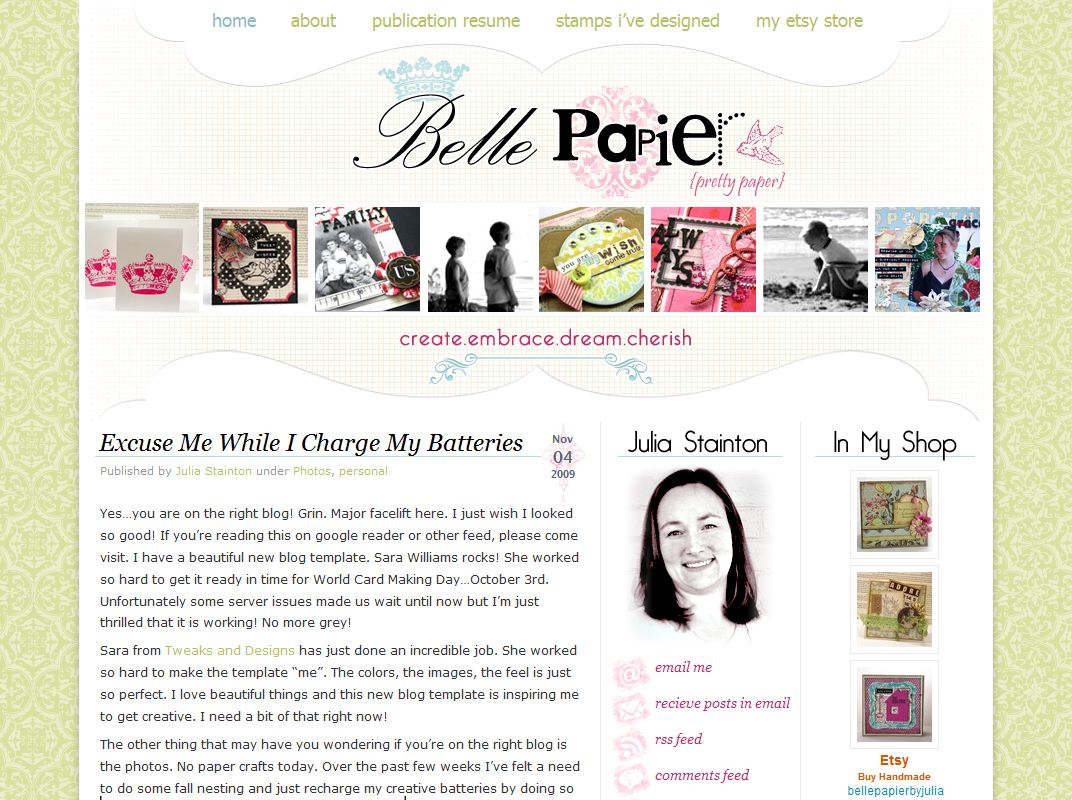 iheart2stamp
One of the most talented people I know and also one of my big sister's best friends, it's Jen!! We worked very hard to get exactly what she wanted. Thanks Jen for putting up with my schedule Jen!!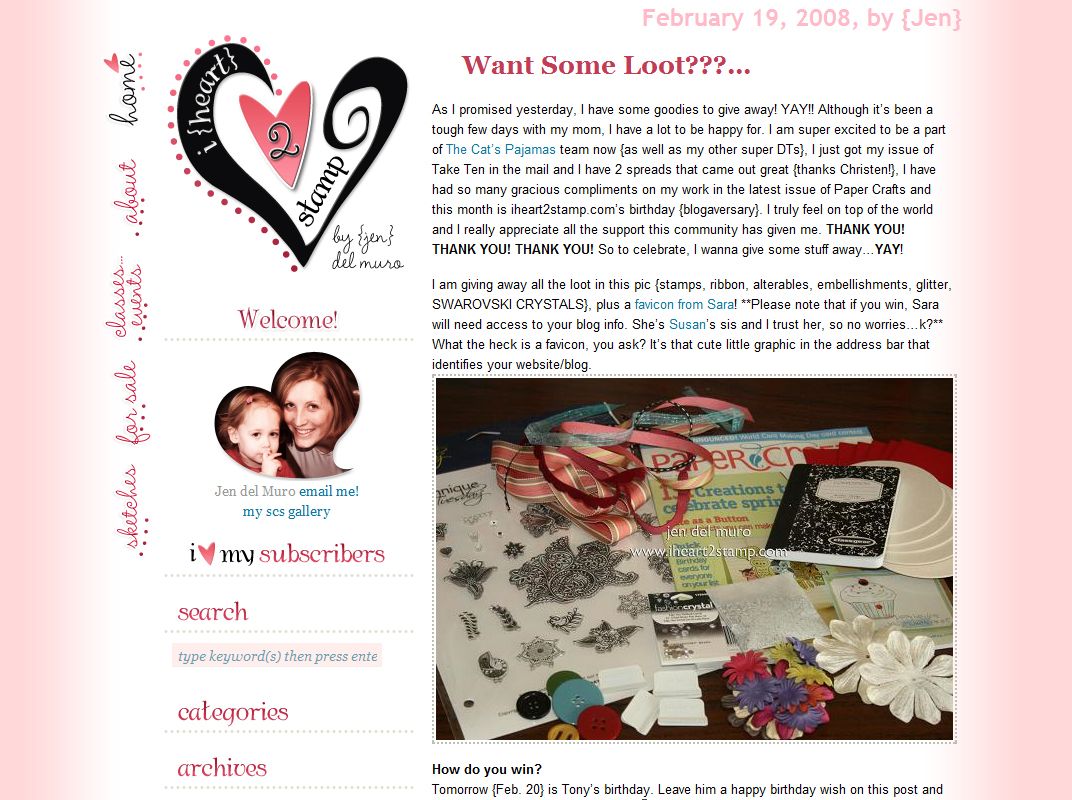 52 Sketches 52 Weeks
When Julie asked me to work on her self-hosted Wordpress blog I was stoked! Sketches for scrapbooking is a bit of a different audience so that was very cool! She was very patient as we worked together through the holidays...thanks Julie!



StampingJo
Canada's best Stampin' Up! demo! Among other additional things, I made a printed ad for her to put into Canadian Scrapbooker magazine.




My Time, My Creations, My Stampendence
Lauren was my first SCS hosted blog design which was ultra-swell! I thoroughly enjoyed working with Lauren, we are just in sync, there is not much else I can say!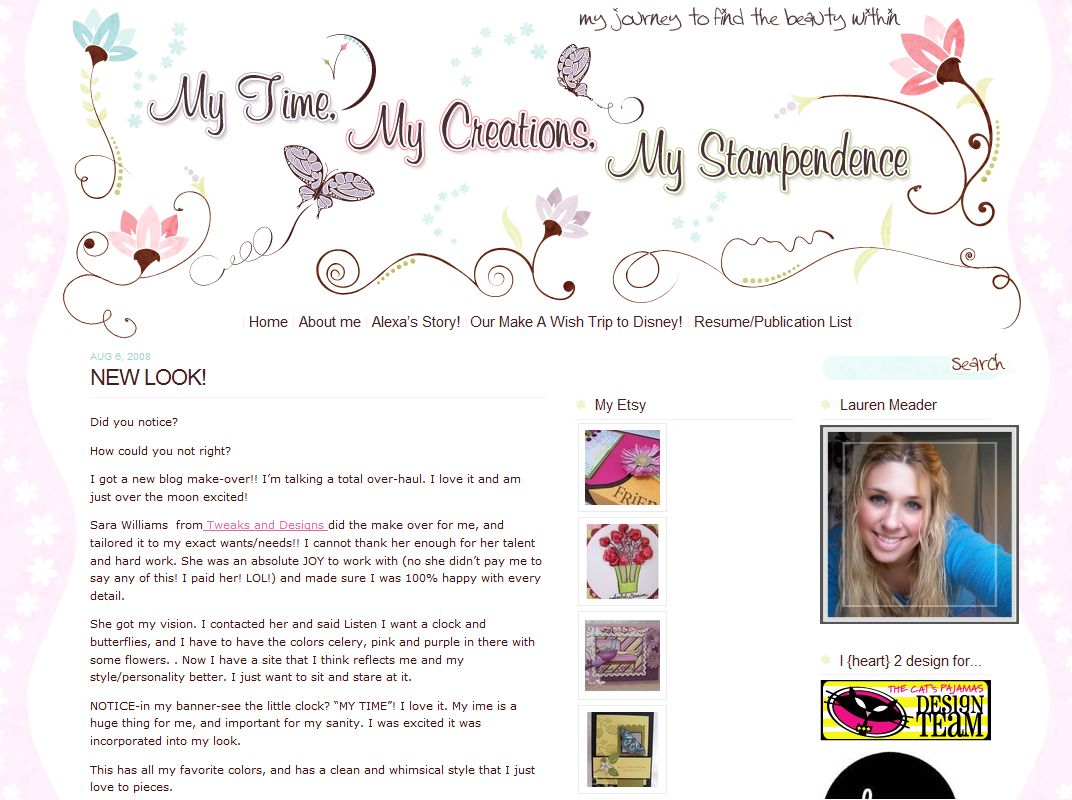 I used graphics from iStockphoto, vectorstock, iClipart, and some hand drawn or computer produced images for all of these designs. Some fonts are purchased, others are from my favorite free font sites and one is even a client's handwriting.

I hope you have enjoyed this very long post! :D