I'm so happy to help Nicole unveil this latest design. It's fun and funky!!!! Nicole sent me some of her favorite papers for inspiration and told me she wanted flowers and the main colors to be black and pink. I made the first sample banner and sent it to her. Then I checked email immediately and saw an email with one last bit of inspiration from Nicole. Well apparently I didn't need that because I totally nailed it! I saw her vision and she didn't even know it yet!! I just love it when that happens. I really wanted to find something neat for the Librarian in Nicole. So I looked around and found a boring pair of black glasses and an old library check-out record card and the funk was born!!!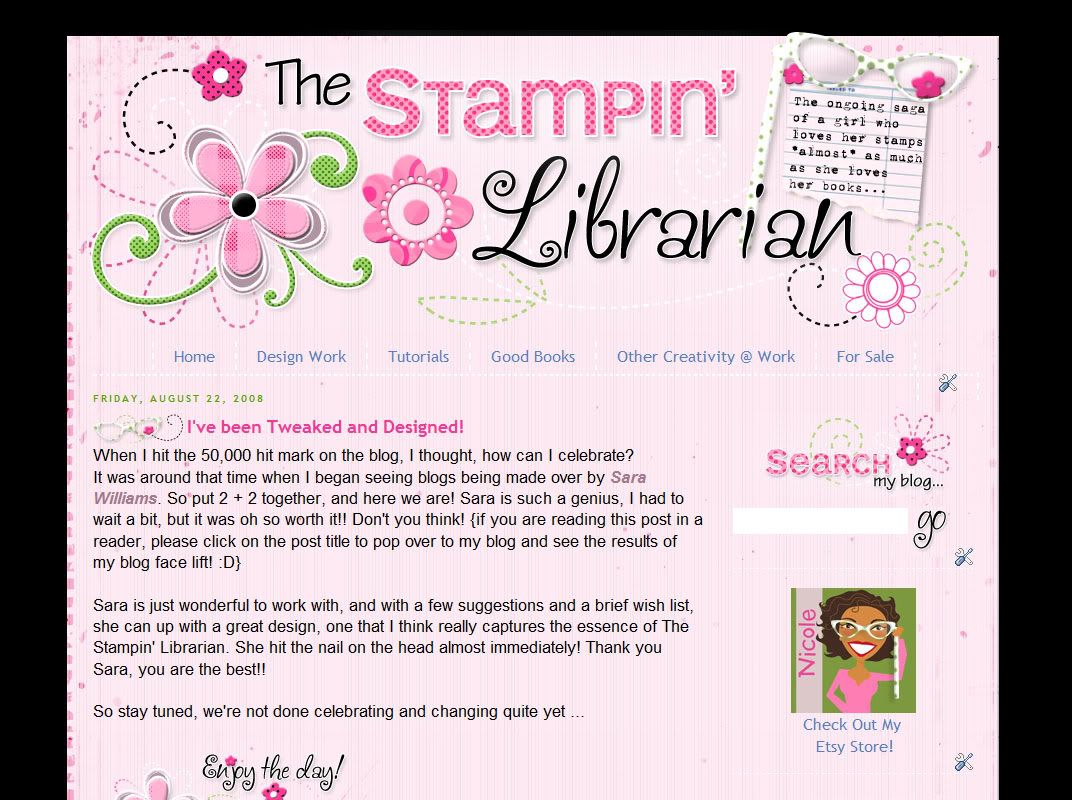 It looks like I need to offer a few more new services! Notice the blogger bar at the top hides...oooohhh...aaaahhhh. And she has her own custom search widget as well as link navigation at the top!!!!

I must also add I just love her spectacled "mini me"...she makes me laugh. I got the idea one morning to just stick those glasses on her avatar (made by matterofscrap.com) and I thought she looked so cute I had to share. It was a fun little freebie! Now she's telling you to check out Nicole's BRAND NEW Etsy Store! I made a banner for that too and Nicole decided to use her little spectacled store clerk on Etsy as well...she's SO FUN!




OK one last Nicole item I'll show you, her watermark. We just loved those glasses!!!





flower brushes from brushes.obsidiandawn.com - glasses and library card from istockphoto.com - stitched flower from vectorstock.com