Jennifer's brand new look is ALL FINISHED! I'm so happy with the result, it's scrumptious!! She found some very cute cupcake paper for me to use on her design.



extended license for paper was purchased from Designer Digitals

Be sure to get the full view at her blog!

And of course I can't leave out her super HUNGRY siggy: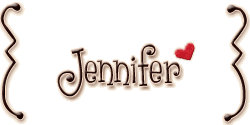 I mean come on, who wouldn't be looking at all those cupcakes all day long?