You may remember this post back when Jen released her new design. I mentioned I had some posting to catch up on. Well here is one from that list...my new (well sort of new) friend AILEEN!!!! She gave me lots of time to play around with different aspects of her BOUTIQUE on Blogger...YES, I said boutique on Blogger! Thanks to Google and all those geeks out there who LOVE to post Blogger tips and tricks I have been able to create thumbnail grids of posts, Pages plus MUCH MORE. Just take a look around her store.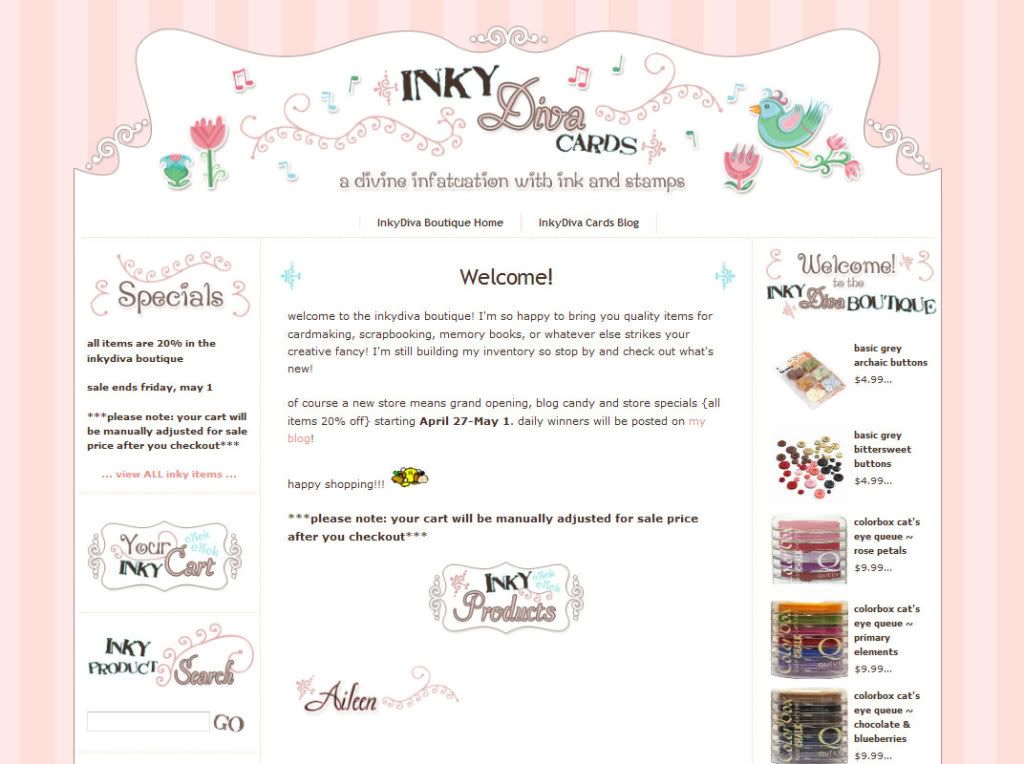 Be sure to visit the Inky Diva this week...she is having a 20% off EVERYTHING SALE and it only lasts until May 1st! She has a great inventory already built up so I just can't wait to hear all about her success!!!! **fingers crossed**

Her new look actually started with her blog design. You can see it in action as well at Inky Diva Cards. Aileen didn't want flowers but something with more flourish. OK, OK...I know she has flowers now, but it's spring!!!!! She has one for all seasons so keep your eyes peeled for those designs too. Aileen also wanted these fabulous warm pinks and browns on a very clean and simple design. She got the works for both her blog and boutique...Full page design, watermark and siggy! I have to say this design is still one of my favorites.

Graphics from istockphoto and vectorstock were used for this design. The fonts I used were all provided by my favorite free font sites.

I'll post more new designs as I can!!